Solar Photo-Voltaic Engineering is a specialist job that requires a proper understanding of Technology, Site Conditions, Standards, Engineering Practices, Cost and Timeline.
We help to fill the gaps by providing best Engineering Procurement and Construction services by undertaking complete design and engineering solutions of Solar Power System Applications as -:
1. On-Grid Rooftop/Ground Mounted Solar Power Projects –: 3 kWp to 500 kWp Capacity
Grid Connected Systems or On-Grid Systems are solar systems that are connected to the building mains directly.
These systems give priority to the solar power generated and only if the generated power is less than that required, will the grid power be used.
Inverter are used to convert the produced DC electricity to AC.
In case you opt for a grid connected system, you are eligible for Net Metering, a process where all the excess power that you produced is fed back to the grid and you receive a credit for the same.
In case you generate more than you consume in one complete year, the DISCOM also pays you for the excess units generated.
In many states, Net Metering has been made mandatory to avail subsidy for solar power projects.
Its Applications -:
Commercial Building Applications -: Office buildings, serviced office, industrial property, office/warehouses, garages, distribution centre, retail stores, shopping malls, shops, hotels, public houses, restaurants, cafes, sports facilities, banks and many more….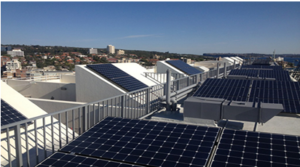 Residential Society Applications -: Typically all residential societies have common area loads such as lifts, outdoor and parking, lighting etc., this makes these facilities ideal to opt solar power solutions.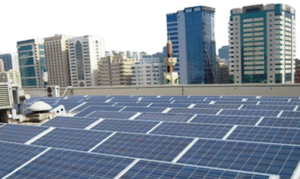 Education Institution Applications –: We provides solar power solutions for educational institutions such as schools, collages, training centers, universities, trust, religious centers and many more….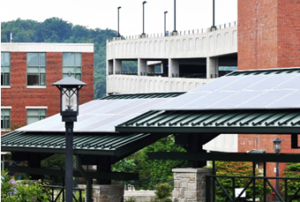 Health-Care Facilities -: Medical centers, hospitals, nursing homes etc. Hospitals and health-care facilities typically operate 24X7. This makes these facilities ideal for solar power installation.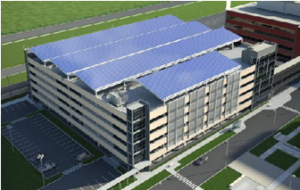 Hotels & Resorts-: Hotels & Resorts are ideal candidates for switching to solar power. Going solar will not only help you save on your power costs, it will also help your establishment become eco-friendly. As more and more international and Indian tourists become eco-friendly, you can publicize this fact and help gain an edge over your competitors.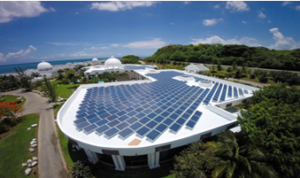 Religious Establishment -: Religious establishments have a key place in the Indian society. Loving and preserving nature is a key part of all religious teachings. Global warming is a key challenge being faced by the humanity today. Steps taken by religious establishments to counter this global menace, will go a long way in setting the right examples.
2. Off-Grid Solar Power Projects -: 3kWp to 250 kWp Capacity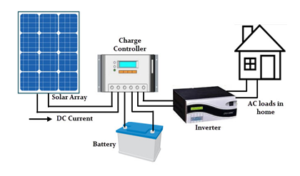 Off-Grid solar systems are different from the on-grid system in the sense that they are set up independently from the state grid.
These systems have an additional battery backup system which is charged by the generated solar energy.
Batteries are charged when the generated power is more than the power being consumed.
While on paper, battery backed systems sound like a great idea, these systems are generally more costly than on-grid systems and have lower efficiency.
The battery needs to be replaced every five years or so but on the positive side, you can use solar energy even in the hours where there is no generation.
Off-grid systems are perfect for your rooftop solar plants if you have a very erratic power supply or do not get any power at all.
Its Applications -:
Mobile Power -:
Portable Solar Power
Motor-homes & Caravans
Vehicles – Cars / Trucks
Boats &Marine
Buildings-:
Remote Off-Grid Buildings
Grid Connected Buildings
Solar Water Pumping-:
Solar Water Features – Fountains
Solar Water Pumping – Boreholes, Wells, Cattle Watering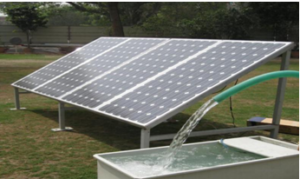 Security-:
Electric Gates
Electric Fences
Alarm Systems
Solar Powered CCTV
Security Barriers
Commercial-:
Remote Solar Powered Communications
Remote Data Monitoring – Telemetry
OEM Applications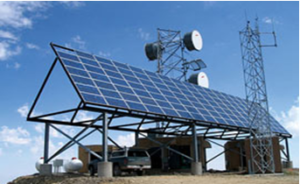 3. Hybrid Solar Power Projects -: 3kWp to 250 kWp Capacity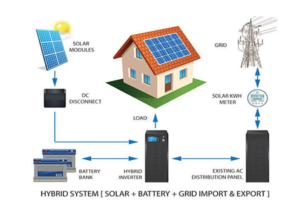 A Hybrid System brings the best of both worlds and is a combination of an On-Grid and Off-Grid Solar System.
Hybrid Systems have a battery backup which helps store the generated energy.
What differentiates hybrid systems from Off-Grid systems is that, once the battery is fully charged, any excess power generated which is not being utilized will be fed back to the grid and the you will get suitably compensated.
A hybrid system can also have other sources of energy producers, such as Diesel Generator (DG) or Wind coupled in the system.
Its Applications -:
Diesel Hybrid Solar PV System for Petrol Pump Applications