1. Standalone Solar Street Lightning System – :
High power LED Based Solar Street Lights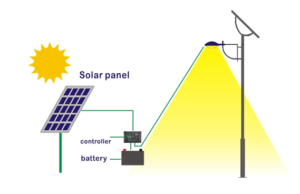 Solar street light system is an ideal application for campus and village street lighting.
The system is provided with battery storage backup sufficient to operate the light for 10-11 hours daily.
Automatic ON/OFF time switch for dusk to down operation and overcharge / deep discharge prevention cut-off are provided with LED indicators.
Easy Photo-voltaic solar street lightening systems require low maintenance, have longer life and provide better performance.
Features:
Easy to install
Surge/lightning protected.
100% short circuit protection
Free from noise, smoke and pollution
Excellent for remote villages Low maintenance
Temperature Compensated Battery charging.
"Fit and forget" device.
2. Centralized Solar Street Lightning System -: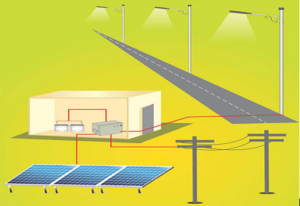 Our company has design a centralized street lighting system specially for industries, large campuses and village.
This solar based lighting solution provides three-day backup and has significant benefits over conventional solar street lights.
The system is built with our experience in roof top installations where all the panels are installed in one location and the electronics and batteries are installed in a control room.
A highly efficiency inverter converts solar DC input power to single phase AC output power which is supplied to the street lights (and other lights) just like conventional grid-based AC supply.
Features:
All the Solar Panels , Batteries & Control Systems are installed at a single location & power distribution done on existing wiring with all features centrally monitored.
Features available
Centrally Auto On/Off & Dimming
Bad Weather Monitoring
No worry of Shadow on Poles
Grid Charging & Switch Over in case of bad weather
1 Km Working Radius
Easy Maintenance of Battery & Panels
Easy Installation & Maintenance of Entire System
Input/Output Efficiency > 96%
IP 67/IP 65 Fixture or retrofit AC LED's can be used